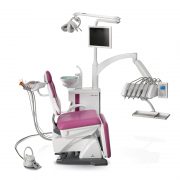 NEXT
PREV
Zoom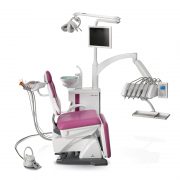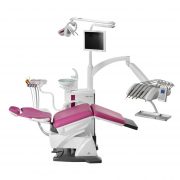 Fedesa Kneebreak Dental Chair
Easy to set up. Comes with detailed user and service manuals or you can contact our technical support team at anytime for additional support over the phone on 03-93316796
The Electra can be customised to your requirements with a variety of delivery and lamp options, or even configured as a stand-alone chair if you wish.
The Electra was developed in a new way to work combining ergonomics, functionality, design, versatility, technological innovation and major interaction between operator-patient.
It's important that patient feels comfortable, serene and relaxed when operator starts the treatment.
For this reason, Electra dental unit presents a chair which makes the contact, communication and dialogue between operator and patient "face to face" favoring an operatives conditions more comfortable for them.
The Electra dental unit presents important details that helps operator in his daily working reducing fatigue, saving movements and adapting
the unit to the different positions that patient treatment requires.
Electra dental unit includes three configurations: PREMIUM, LUX and ECO which, together with the ORTHODONTICS version, can cater for a broad spectrum of users based on their various needs thanks to their user-friendliness and versatility, as well as the reliability of their equipment.
The Electra chair is available as a stand alone unit - making it ideal for exams.