NEXT
PREV
Zoom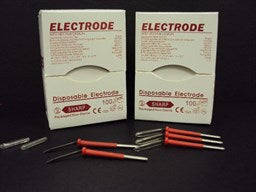 MES Electrode Sharps Non-sterile
Easy to set up. Comes with detailed user and service manuals or you can contact our technical support team at anytime for additional support over the phone on 03-93316796
Comes in 100 per box.
MES electrodes are available in either blunt or sharp tip configurations. MES sharp tips are ideal for procedures requiring pinpoint precision and control while blunt tips are ideal for general broad based coagulation.
MES electrodes eliminate patient-to-patient cross-contamination and the plastic safety collars simplify handling and help prevent accidental injury. Blunt and sharp tips are colour-coded for rapid identification.