NEXT
PREV
Zoom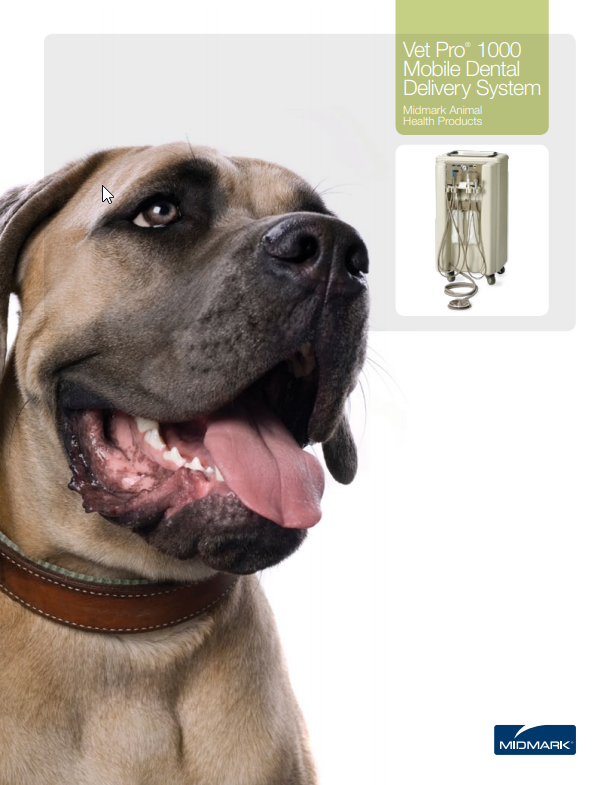 VET DENTAL UNIT | VetPro 1000
Easy to set up. Comes with detailed user and service manuals or you can contact our technical support team at anytime for additional support over the phone on 03-93316796
A robust, reliable, mobile unit with precise controls designed specifically for veterinary dentistry.
Oil-free compressor means no messy oil changes.
1/3 hp motor with average sound level of 40 dB and a 10-year life under typical use.
Handpieces activate automatically when lifted from their holders allowing your focus to remain on your patient.
Comes with high and low speed handpieces, VetPro Bur Starter Kit and 10 disposable prophy angles.
• Medical grade castors and sturdy ABS plastic construction.
• Optional fibre optic high-speed handpiece and LED scaler improve visibility in the oral cavity.
• Toggle between the two water bottles without de-pressurising the system.
• One of the quietest compressors on the market.
• No oil changes and very little maintenance required.
The Midmark VetPro® dental delivery system gives you unsurpassed reliability, backed by our trained service technicians and independent service network. Our dental technology improves the quality and quantity of procedures you can perform—enhancing patient health and practice profitability. Get the most efficient oil-free, worry-free, hassle-free solution for your veterinary dental delivery needs. We provide the highest quality accessories, including: Venturi suction upgrade kit Rodent dentistry kit Antimicrobial cover Acteon® Newtron Piezo LED Scaler VetPro® fiber optic highspeed handpiece with optional 360º swivel
LED Advantage high speed 360 degree swivel handpiece allows greater control of the handpiece and reduces hand fatigue. The built in magnetic bur holder prevents burs from falling on the ground. The burs are held in place right where you need them! An array of low speed attachments for rabbit dentistry, orthopaedics and restorative dentistry are also available on request.
This vetpro1000 allows for the easy integration of an ultrasonic scaler. Any brand of scaler can be connected to the water and power supply the vetpro1000The dental machine is self-contained and only one power cord is required to power the machine and ultrasonic scaler. The dental machine chassis is made from high quality medical material.